Come visit us at one of 5 locations. Now in Santa Monica, San Clemente, Oceanside, Ladera Ranch & Rancho Bernardo.
Elevate yourself with our NAD+ elite IV/ Injections Therapy in our Orange County, San Diego County and Los Angeles County locations.
$600 per IV (3 IV's for $1500)

$90 for 1 Injection
$395 for 5 Injections (Reg. $450)
$745 for 10 Injections (Reg. $900

Studies have shown this coenzyme helps slow down your biological clock by increasing cognitive health, mood, and energy levels with this elite IV through the anti-aging effects of DNA + mitochondrial repair.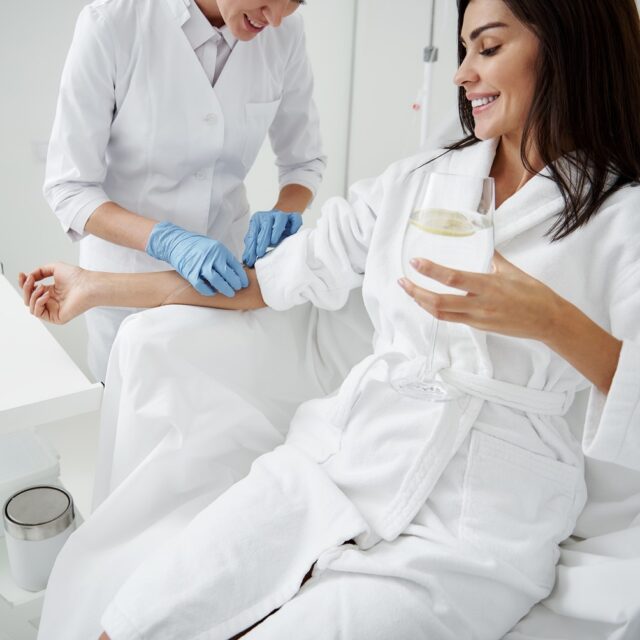 Frequently Asked Questions (FAQs)
A coenzyme found in every cell in our body that comes from vitamin B3 (Niacin). This helps keep our brain, immune system, digestive system, and skin healthy. NAD+ helps turn the nutrients we eat into ATP, which is how cells exchange and produce energy. NAD+ is required for over 500 enzymatic reactions which eliminate free radicals in the body. Unfortunately, NAD+ levels decline significantly as we age. Now serving NAD+ in Oceanside and San Clemente!
What are the benefits to NAD+?
Aids in DNA repair and prevents cell damage
Repair and restoration of neurotransmitters
Boosts metabolism
Reduces pain and inflammation
Slows the aging process
Increases energy levels
Improves concentration, memory, and mental clarity
Improves mood
Helps with drug/alcohol withdrawal
Now serving NAD+ in Oceanside and San Clemente!
How long does the treatment take?
NAD+ treatments take 2-4 hours depending on patient sensitivity. We recommend doing 2-4 treatments for overall health and wellness. Protocol is to start at 500mg for your first treatment and then 500mg-1000mg in order to boost serum NAD+ levels. NAD+ for addiction treatments and dosing will vary depending on the substance.
Now serving NAD+ in Oceanside and San Clemente!
When will I feel the effects and how long does it last?
Most patients feel the effect immediately after the treatment or within 2-3 days. It can take a little longer to take effect than a traditional IV because there is so much restoration and cellular rejuvenation taking place- this just takes time. The effects will last much longer than a traditional IV depending on age and lifestyle- the effects usually last 6-12 months. We encourage you to return for a booster every few months to keep levels elevated after the initial 2-4 treatments, this will help keep serum NAD+ levels up that decline naturally with age.
Now serving NAD+ in Oceanside and San Clemente!
We source from only FDA approved pharmacies to assure that you get the purest and highest quality product out there. NAD+ is very expensive for the pharmacy to compound and therefore expensive for us to purchase. We consider our pricing to be the most competitive out there and we encourage you to shop around, just be sure you are comparing the same dosing and quality when doing so. If you find it priced lower than us we will do our best to match the price.
Now serving NAD+ in Oceanside and San Clemente!
Get healthy and boost your energy and vitality with NAD+ in one of our 6 locations!
As easy as following these 4 steps:

Choose from any of our IV infusions or IM (inter-muscular) injections that best fits your needs.

Call, e-mail or go to our website to schedule an appointment. We are open 7 days a week.

Our registered nurses will help you decide and agree on an appropriate treatment.

Experience IV infusion in our relaxing lounge or receive an IM injection in one of our private rooms.
Let us help you be the best you that you can be with our NAD+ in one of our 5 locations!